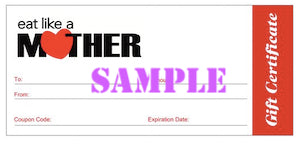 Looking for the perfect gift? Eat Like a Mother has you covered. 
If you're looking to say thank you, I love you, or simply, I'm thinking about you and you deserve a treat, Eat Like a Mother has great treats for any occasion. The Bread Lover's Gift Certificate allows your favorite person to pick their favorite sourdough treats, and maybe they will even share with you? 

Choose one, two, or three loaf quantity gift certificates. Want something extra special? Just email heather@eatlikeamother.com and we'll curate the perfect gift pack!

Also check out the Bread Lover Gift Pack, which includes an ELAM Mug and a gift certificate good for a loaf (or two) of their choice.